Tidal Creative is a marketing agency based out of beautiful Sitka, Alaska. Kerri O'Toole heads up the operations (and pretty much does everything else too).
With an education in business and marketing , experience in web design, and an understanding of Alaska business, Kerri can create effective strategic marketing solutions to set your business apart from the competition. Whether your business is small or large, a cohesive brand image is important. Let Tidal Creative help to create that consistent message for you and your customers.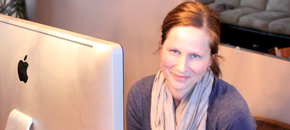 Kerri is from northwestern Montana, another beautiful spot on the map. After graduating from the University of Montana she spent a couple years in New Zealand exploring, working, and having a wonderful life adventure. She came up to Sitka in 2002, with her now husband, to work for the summer and she never left. Her family has now expanded to four and her two little boys keep her busy and make her smile (most of the time).
Kerri has always had an interest and appreciation for good design, whether it be graphic, interior, building, landscapes...you name it. She strives to apply that passion in every project she works on.

Located in Sitka? Kerri can meet with you to discuss your goals, ideas, expectations, budget, etc. for the project in mind. From there, Kerri will give you an estimate and timeline so you know what to expect and when to expect it. It's very much a collaborative process which ends when you are happy and satisfied with the final product.
If meeting in person is not an option...no worries. We can set up a meeting to chat on the phone or online. Contact Kerri and Get a Quote Now